Apothecary Jars are a great way to decorate your table for a Halloween party, decorate a mantle for guests, or for a photo prop! There are many ways to decorate these jars to make them look old, or make them look slimy. I have found different Halloween Apothecary Jar Tutorials to help you in your party planning! These tutorials aren't about what you put inside the jars, they're more about how to decorate the outside of them, or transform them to look completely different.
From these tutorials, I learned that you can attach anything to the jar lid, as long as it has a flat base to it. There are many types of jars and bottles you can use to your decorations; like pill bottles, spaghetti jars, salsa jars, etc. You can also attach other items to candle sticks, like birdhouses! I had fun getting this post together and I hope you learn something from these Halloween Apothecary Jar Tutorials also!
Harry Potter Inspired Apothecary Jars - These Halloween Apothecary Jar Tutorials show how to make jars inspired by the jars in Harry Potter. This is an easy tutorial and the glasses look amazing. To achieve this dusty color, craft paint was used in black, brown, gold and gray. The 3D letters were made with glue.
Apothecary Jar Tutorials - with Texture - These are jars also inspired by the Harry Potter. These black jars are given texture by using napkins pasted onto the jar with mod podge, and then black paint and metallic paint was applied to the jar. The bat was painted black and pasted onto the top of the jar. Also, the label was created by printing a vintage Halloween image. A link to that graphics source is on the tutorial.
Apothecary Jars - These jars are actually empty pill bottles. This crafter suggests that chalkboard paint will add texture to the bottles, but if you can't find any, black acrylic paint will do. The distressed look to the bottles were created by sanding down the gloss with sand paper before paint is applied. I think the twine and spanish moss in this tutorial is an excellent touch. You also have the options of using tree bark to the lids for a rustic look.
Creepy Halloween Apothecary Jar Tutorials - this icky and slimy decoration is great for a haunted house. The jars used in this tutorial were old salsa jars or spaghetti jars. After the candle sticks and the jar lids were painted black and the bead toppers were applied, this crafter drizzled candle wax to create the appearance of horror.
Super Shiny Owl Halloween Apothecary Jar - This is a simple tutorial on how to paint cute little black owls black and glue them onto the mason jar lids. I think it's brilliant to use ceramic owls and then paint them black to create this look. It's a great look for Halloween Home Decor!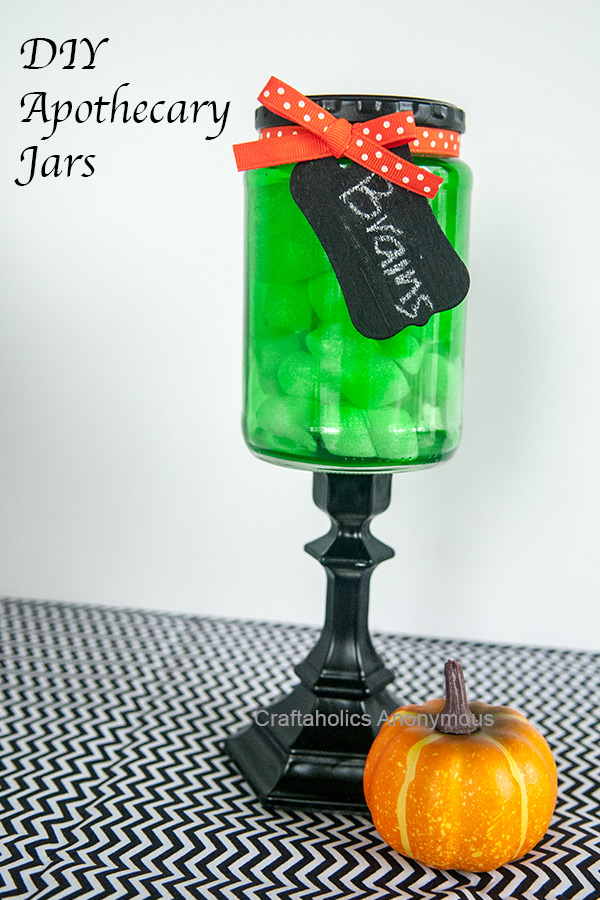 Stained Glass Halloween Apothecary JarThis jar looks like it contains green liquid, but it has actually been stained with green glass stainer. The red bow is a wonderful contrast to the black lid and the green glass! The items inside are actually just packing peanuts - no liquid inside the glass jar.
Halloween Apothecary Jar Tutorials - Poison bottles - These jars were painted with Black Glass stain and the bottles were painted with chalkboard paint. Very cute look with the labels.
Birdhouse on Candlesticks for Halloween - There are numerous ways to decorate your table for Halloween, and I really thought these birdhouses are an extra touch to add to a table already decorated with apothecary jars. The birdhouses were decorated with patterned craft paper applied with mod podge. Glitter was applied to the roofs and a tiny owl was attached, along with a tarantula. I can see getting carried away in creativity with this special project.
Black and Orange Glitter Apothecary Jar I love Halloween Apothecary Jar Tutorials that give a step-by-step picture tutorial. These apothecary bases have a metallic look used with black spray paint and orange glitter.
Apothecary Jar Lots
- Buy Apothecary Jars in small lots at very good prices!