You have your minions costume set and you want to top it off with the signature Minion Goggles and you want to try your hand at making them because you have a little time to spare before the big Minion celebration.
Well, you're in luck - we found the most popular Top 6 Minion Goggles DIY!
Some Minions have one eye or two eyes and the goggles they wear, accommodate the number of eyes they have. When you're planning to follow a Minion Goggles DIY, keep in mind the number of eyes you want to create for.
With a little ingenuity and some quick household products, these creative crafters used simple items to make a Minion Goggles DIY and shared them with us. So without further a do be do be do, here they are! Find your favorite Minion Goggles DIY
photo source: MakeandTakes.com
Minion Goggles DIY - Gift Wrapping Tupes
This is perhaps in my opinion, one of the easiest and quickest ways to make Minion Goggles. In this tutorial, the materials are easy to handle. This tutorial also shows you how to make a minion costume and incorporate these minion goggles with it.
photo source: MomSavingMoney.com
Minion Goggles DIY - Styrofoam Cups These minion goggles are made with paper cups and Duck Tape. This tutorial also uses a stapler to simply attach everything together, which makes this tutorial an easy one because these materials are also easy to handle!
photo source: LittleSparrow.Blogspot.com
Minion Goggles DIY - PVC Pipe and Screws This Minion Goggles DIY is a little more advanced. I like that the metallic look to them was created by using Silver Glitter Spray Paint. These Minion Goggles look more realistic.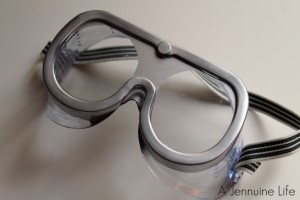 photo source: AJenuineLife.com
Minion Goggles DIY - Lab Safety Goggles Seeing as how the Minions were influenced partly by James Bond Laboratory scenes, this tutorial makes lots of sense! This creative blogger ordered child sized lab goggles and spray painted them silver. What a great idea! You don't have to worry about assembling the head band or attaching other parts. It's a simple spray and go!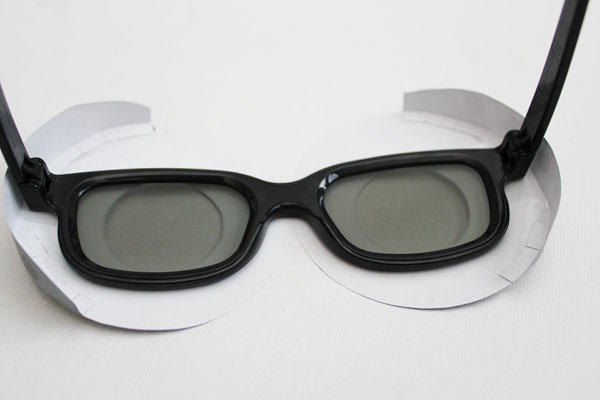 photo source: 30MinuteCrafts.com
Minion Goggles DIY - Glasses This tutorial is great because you can build upon existing glasses with a little glue and paper! Super great idea. In this tutorial, the crafter used 3d glasses but you can also use non-prescription fashion glasses or glasses without the lens.
photo source: LauraErickson2001.wordpress.com
Minion Goggles DIY - Mason Jar Lids A very popular choice for minion goggles are mason jar lids. Here is a great tutorial for Minion Goggles DIY!
If you have any Minion Goggles DIY that you want to suggest, please drop me a line in the comments or email!
Here are some Minion Goggles available for sale now!
Official Minion Shades Goggles Minion Movie Exclusive!
- $13.49 - In case you want high quality Minion goggles that aren't Minion Goggles DIY, here are a pair of officially licensed Minion Goggles.
Minion Goggles
$17.49 - These Minion Goggles Come with two sets of lenses. clear lenses and dark lenses. To remove the dark lenses just unscrew the lenses. One size fits all for both adults and kids. Goggles are adjustable and have two set of lenses which can be switched out.


Shop Minion Costumes for the whole Family!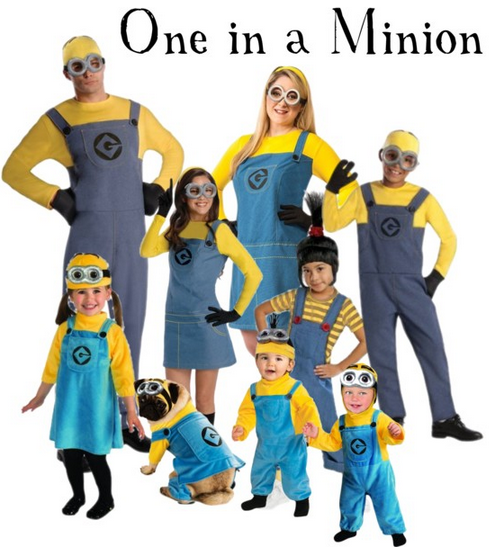 Minion Costumes for Men
Minion Costumes for Women
Minion Costumes for Boys
Minion Costumes for Girls
Minion Costumes for Toddlers
Minion Costumes for Baby
Minion Costumes for Dog
Minion Baby Creepers