Every kid loves to dress up like Batman! Whether they're saving the playpen from bad guys, or fluttering by at the speed of light in the tricycle mobile --- we have some great projects for you to make pretend play possible for your little one!
DIY: SUPERHERO MUSCLE SHIRT/ DIY BATMAN COSTUME
- Create your own buff Batman Costume with this handy tutorial. This step-by-step photo tutorial shows you how to make the adorable musles.
Best Batman Mask With Tutorial
- This easy to follow step-by-step photo tutorial shows you how to make a unique batman mask for kids. What a fun project to make for make believe time!
Tutorial: DIY Superhero Capes
- Capes are fun to play with and these Superhero Batman Capes are great for photo opps as you will see from this really informative photo tutorial.
-
Batman Dress-up Set Pattern & Tutorial
- Another fun tutorial for a unique batman costume. The arm cuffs are creative and fun to make!
Make your own Batman Mask
This isn't a step-by-step photo tutorial but if you can envision it as you read, this looks like it would be fairly simple. The best part is that this blogger provided a free pattern to print!
Bat Mask Tutorial and Template
- This creative felt Batman Mask tutorial comes with a free pattern. I like how she used different colors to make a batman mask.
Caped Tutu Girls Batman Costume
I like that the Tutu and Cape are combine. This tutorial shows lots of pictures.
Classic Batman and Robin Kids' DIY Costumes
- This is a tutorial for the complete Batman and Robin Costumes. It's very creative and the pictures turned out great!
DIY Batman Wear
This is one of my favorite tutorials because it has step-by-step photos on how the costume was achieved.
Baby Batman Halloween Costume
- Babies are adorable in Batman attire! This tutorial is creative, fun and gushing with a cute costume tutorial.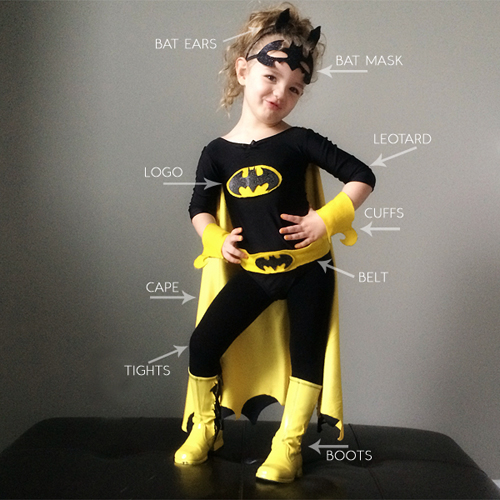 DIY Batman and Batgirl Costume
- What a fabulous idea!